Hairyhippy
Guest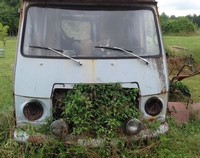 Offline
Posted: Wed 30 Dec 2015 - 16:12

 

   Post subject: Peugeot J7 brake caliper needed

---

Well the camping car is finished except for the brakes. I have had major problems getting the air out of the new braking system over the last two months, yes two months of messing about only to find out the "reconditioned " master cylinder supplied by the English firm Past Parts does not work properly and I had to take it back out and fit a new one from Mister Auto in Belgium. That is working but now I find I need a new FRONT RIGHT BRAKE CALIPER as the old one has a damaged thread where the banjo bolt goes in. These calipers are a very bad design as they are made of soft aluminium and if the bolt is tighted up just a little too much the thread goes. Please help me find a new one as it is not listed on Mister Auto site. I think they are handed so it has to be the front right one. Happy Christmas to all on the forum and best wishes for new year.