Hairyhippy
Guest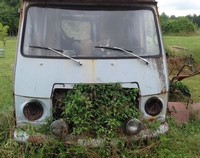 Offline
Posted: Sat 17 Sep 2016 - 08:51

 

   Post subject: Vend mon camping car J7

---

I have now owned my Peugeot J7 camper for two years but as I am now buying a house I have decided to sell some of my classic car collection. This means my camper is for sale. It is an original J7 with classic French interior of 1978 but themed as a hippy wagon exterior. The chassis and underside are original and the bodywork were stripped to bare metal and resprayed with 5litres of zinc non-porus primer and 5 litres of 2-pack top coat. The interior was removed, insulation fitted and interior replaced. Compost toilet and shower. Wood burning stove fitted. Brakes rebuilt and new clutch hydrolics. Other new parts are: radiator and belts, alternator, inverter, gas hoses, stainless steel gallery, generator, fans etc.. It is sold with many spares including two spare wheels/tyres. It is in superb condition. Price is £16,000 or near offer. For more details and pictures, it can be seen on ebay.uk or ebay.co.uk..    Also contact me for full list of new parts fitted and more information. Best wishes to all J owners.